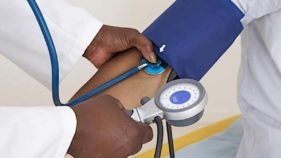 Medical Experts have urged Nigerians to be pro-active in taking adequate care of their health to avoid chronic health situations that could possibly result in untimely death.
They also urged well-meaning Nigerians to bring the hospital to the doorsteps of the indigents citizens, stressing that it is not everybody that could afford medical care.
The experts spoke at a one-day free health mission organised by Rrogamuk foundation, a Non Governmental Organisation (NGO), held at Lasu-Igando road, in Lagos State.
Specifically, founder of the NGO, Dr. Adenike Olowopejo lamented that sometimes some people without prior illness could just slump and die, urging the need for routine checkups.She said: "I understand the pains that people go through especially those who are not as informed and educated. That is why I have decided to organize this event to give back to the society.
"Health is wealth, but not many people take adequate care of their health because they are gathering wealth. This should not be the case as nobody will take money gathered to the grave. There should be time for rest and medical checkups at lease three times in a year.
"Also well meaning Nigerians can also give to the society by bringing the hospital to the people. This can be done through programmes like this, not many people can afford health care, and there is need for us to be our brother's keeper by offering a hand of help to others. Free health care like this should come often; the government alone cannot do everything.
"We treated various types of aliments. We saw quite a number of cases of patients tested of diabetes and hypertension. Some of the cases that cannot be treated, we give referrals."Also speaking, a medical expert, Dr. Odebiyi Yinka noted that the average lifespan of Nigerians is 80 years old, "But that doesn't mean one cannot live above this age, however, when programmes like this are in place, everybody will be sensitized and possibly live well.
"Individuals can also assist the government by offering free health care to the indigent and those that are less concern about the need to go the hospitals for check ups. Also, Dr. Emmanuel Ogoji, hinted that the event also recorded patients diagnosed of pathological diseases, "These patients were given referrals to general hospitals."
Source: The Guidian